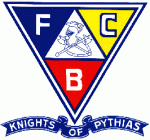 Grand Lodge, Knights of Pythias
Grand Domain of Missouri
JOIN US IN OUR SESQUICENTENNIAL CELEBRATION!
TO ALL MEMBERS OF THE GRAND DOMAIN OF MISSOURI & INTERESTED PYTHIANS:
The Grand Lodge Knights of Pythias, Grand Domain of Missouri, will be celebrating its 150th Anniversary (instituted July 7, 1871), with events on Saturday, July 17th as follows:
Pythian Castle, 9:30am (1451 E. Pythian St., Springfield, MO; phone 417-865-1464). At 9:45am, a group photo will be taken outside, then at 10:00am, coffee and snacks will be served in the banquet room inside. At 10:50am we need to exit the Castle, but;
For those interested in a tour of the Castle, it begins at 11:00am, taking approximately one hour. Cost of tour is $10.50 (if purchased online in advance), or $12.00 at the door.
Picnic to be held at Republic Park, Republic MO. beginning at 11:00am until everyone has left for the day. Please bring a dish or side of some type. Republic Park address is 711 East Miller Rd, Republic. Syracuse #437 (Republic) is holding its celebration in conjunction with the Grand Lodge.
There are several hotels nearby the Castle, including the Best Western Route 66 Rail Haven (south on Glenstone Ave), and to the north on Glenstone Ave (north of Kearney St. which is MO. 744/Route 66), including this year's GL Convention Hotel (Holiday Inn and Suites).
If additional events are to take place, we will announce them. Hope to see you on July 17th!
Sincerely,
Steve Glise, Grand Secretary
Grand Domain of Missouri